Will 2019 Be Your Year to Come Home?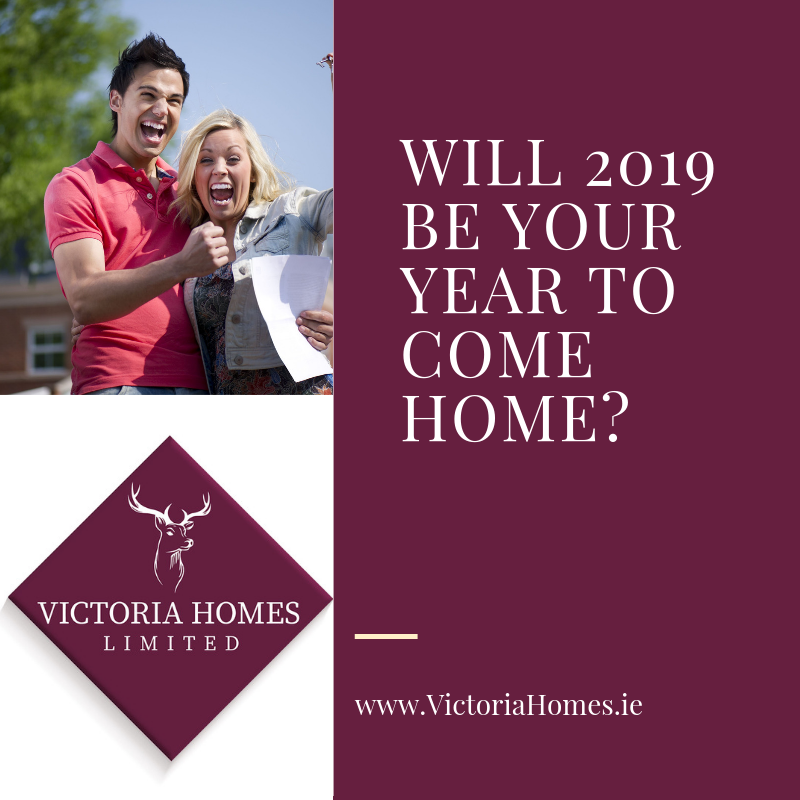 Happy New Year! Will 2019 finally be the year you move into your dream home?
With the New Year comes a plethora of reports and market analysis explaining what actually happened in the marketplace over the past twelve months and what we can likely expect to see in 2019.
On the mortgage front, an article in the Irish Examiner today reported that mortgage approval rates for November show the majority of lending continues to be for first-time buyers. Out of a total of 4,102 mortgages approved, 47% of those applicants were first-time buyers.
The Irish Independent/Real Estate Alliance (REA) house price forecast for 2019 agrees with  MyHome.ie's latest report, which forecasts that the asking prices for new homes across Ireland will rise by 5% this year. According to the 2018 Year in Review from Daft.ie, construction activity has improved over the last year, with 18,000 new homes being built. This figure is up from 15,000 in 2017 and is to be welcomed.
Of course, not all new homes are equal and more supply means more choice for discerning home buyers in the Greater Dublin Area. With this is mind, we had our team at Victoria Homes put their thinking caps on to list the top five 'asks' of new home buyers that we have dealt with over the years.
Number 5: Open plan
This one comes with a caveat, that is, the vast majority of buyers today want the contemporary feel and flow of an open space – provided there are a few private spaces throughout the home.
Number 4:  A home office
This was less important a decade ago, however, it is increasingly becoming a vital component of a family home. With more people opting for flexible working arrangements, that usually include some element of working from home at times, having a private space that can be closed off when not in use is becoming a necessity. For most people, this can double as a guest bedroom when needed, if you intend to do this – we recommend bespoke, self-contained cabinet work desks that can be closed up for security.
Number 3: Useable outdoor space
This was never a given with homes in Ireland but contemporary home owners need to be able to use all their space, all year round – and this includes the garden. Victoria Homes achieves this by fully landscaping the gardens and paving throughout so that all outdoor spaces are accessible, even in wet weather conditions.
Number 2: Storage
This one will come as no surprise – home owners require ever more storage for their family's lifestyles and, as fans of decluttering guru Marie Kondo will attest, in order to avoid a mess, every item in your home must have a place. The range of clever storage solutions continues to innovate so no corner of your home should be without functional (though often hidden!) storage.
And can you guess what the number 1 'ask' is?
Number 1: Potential
Yes, potential – this might be a garage that lends itself to extra storage, or a spacious garden that will benefit from a garden room in a few years, or perhaps an attic that might be converted in a decade or two, if needed. This is the hallmark of a lifetime family home, one that can – through clever design – expand and shrink to suit the changing needs of the modern family.
Can you think of any 'must haves' that we need to add to this list?
To discuss this and other housing matters in Dublin, please contact me directly on +353 (0) 87 937 0896, Derek@VictoriaHomes.ie  or check out all of our current developments at www.victoriahomes.ie/