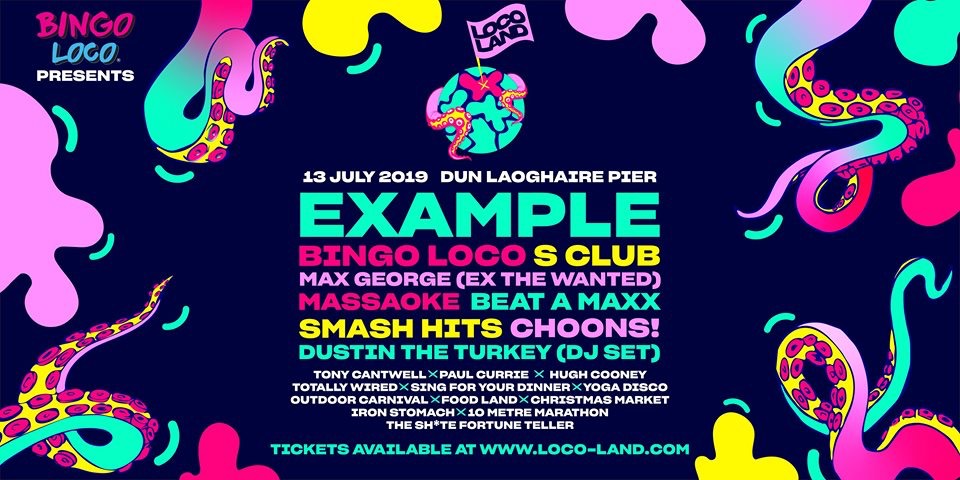 We have already had some amazing festivals this year but there are plenty more to enjoy this summer. If you haven't been to one this year, this is the perfect opportunity to enjoy the best of what festivals have to offer. Depending on what you are interested in there are loads of festivals but here are some that we think are going to be brilliant:
Loco Land Festival
Where: Dún Laoghaire Harbour, Dublin
Date: Saturday 13th July 2019
Details: Bingo Loco are taking over Dún Laoghaire Harbour for Ireland's first immersive entertainment festival.With some great music acts including, Example, S Club and Bingo Loco to name a few you would be mad to miss this festival. There is going to be karaoke, carnivals and Dustin the Turkey is going to be there too and a really bad fortune teller (no idea what that is about but it sounds fun). Note: this is an adults only event. 
For more information check out their website here.
Laya Healthcare City Spectacular
Where: Merrion Square, Dublin
Date: 12th July – 14th July 2019
Details: Boasting 3 days with 100 street performances from incredible international talent, feel good family health and wellness area with Laya Healthcare and a live music stage with great bands. For foodie fans, there will be a Just Eat Street food market with tasty global cuisines from barbecue cuisine to burritos. Entry is completely free too and with a football arena, lego building area, creative writing and a play space for kids, this festival is ideal for families. There is so much to see and do at this festival that we advise you plan ahead.
For more information check out their website here.
Iveagh Gardens Concerts
Where: Iveagh Gardens, Dublin
Dates: 4th July – 20th July 2019 – miscellaneous concerts
Details: Iveagh Gardens brings lots of music acts to the stage for the first few weeks in July and though you have missed, Hall and Oates and Damien Dempsey there are more coming in the next week or so. With Villagers, Aslan, Mac DeMarco and Garbage playing on dates this month you will need to act fast to get tickets. 
For more information check out this website for more details and to book tickets.
Galway International Arts Festival
Where: Galway City
Dates: 15th July  – 28th July 2019
Details: Galway City will come alive with some lively gigs hosted by the talented Villagers and John Grant, Bell X1 and Two Cinema Club as well as the much loved band, The Coronas. Take a moment to check out the website for the full itinerary and list of gigs. 
For more information check out their website here. 
Beatyard
Where: Dún Laoghaire Harbour, Dublin
Dates: 3rd August – 4th August 2019
Details: The music line-up for this weekend festival is brilliant with Groove Armada, Chvrches, Jungle and Grand Master to name a few. Families are welcome to the festival and there are tonnes of activities to keep the family busy. With Eatyard, Kidsyard and Gamesyard you are guaranteed a good weekend of fun, entertainment and good food and music! There are also boat parties which are apparently, guaranteed craic! 
For more information check out their website here. 
Here some other festivals you might be attending this summer:
Posted by newsupdates
On July 12, 2019
0 Comment